The Dilleniidae
Family Overview - The Violales
Cucurbitaceae - the Gourd Family
Diversity: A family about 125 genera and over 825 species of scandent, tendril-bearing herbs, both annual and (mostly) perennial. Domesticated elements include the watermelon (Citrullus) and bottle groud (Lagenaria), both from Africa, squash (Cucurbita - 5 species domesticated) from the Americas, and Cucumis species from Eurasia (cucumber and sweet melons).
Distribution: Broadly distributed throughout tropical areas of the World - pantropical - 15 genera and 29 species in the Texas flora.
Floral structure:

Significant features:
A given local flora will include a small number of herbaceous vines and, of these, a smaller number that produce
tendrils
. Combine these features with a
palmate
pattern of leaf lobing and venation and you have, just using vegetative characters, a well marked family. The floral structure is also distinctive in that the Cucurbitaceae combines imperfect or unisexual, a mode typical of anemophilious taxa, with clear floral adaptations for insect pollination, i.e., large, showy, complex flowers that are highly specialized via connation at all four whorls (
synsepalous
,
sympetalous
,
synantherous
, and
syncarpous
) and adnation to produce an
hypanthium
and conspicuous
epigyny
. The fruit is - in essence - a berry with a leathery or lignified (hardened) pericarp+hypanthium that is tagged with a family-level name, the
pepo
. The family includes the flowering plants species that has, perhaps, the longest association with humans - the bottle gourd (
Lagenaria siceraria
) and the species that produces the largest fruit of all angiosperms (
Cucurbita maxima
).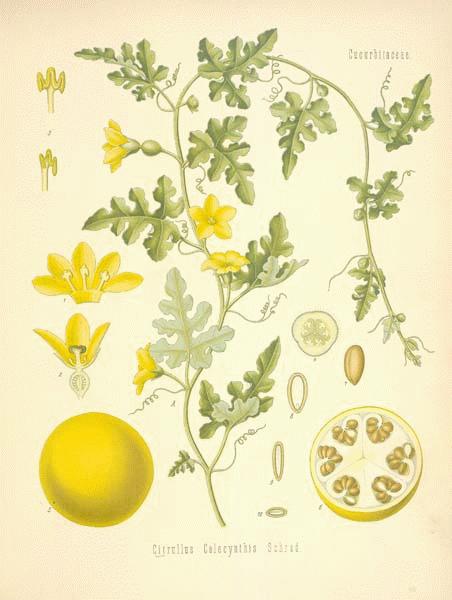 Citrullus colocynthis - wild watermelon - overview

| | | |
| --- | --- | --- |
| | Cucumber (Cucumis sativa) flowers at anthesis, pistillate (left) and staminate (right) | |
| | | |
| --- | --- | --- |
| | Bottle Grourd (Lagenaria siceraria) staminate flower (left) with perianth removed showing synanthery and 'contorted' anthers and (right) pistillate flower in bud | |
| | | |
| --- | --- | --- |
| | Fruit cross sections - apparent parietal (from the pericarp) placentation - acorn squash (Cucurbita pepo) and cucumber (Cucumis sativa) | |
More information on the Cucurbitaceae

---
Return to the Biology 301 homepage or the Dilleniidae page